ABOUT JONNIE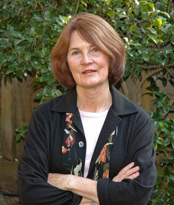 Jonnie Jacobs is the author of fifteen novels, most recently, Payback.
She was born and raised in the San Francisco Bay Area. She has a bachelor's degree from the University of California at Berkeley and a law degree from UC's Boalt Hall School of Law. In addition, she holds graduate degrees in English, from the University of Michigan, and in counseling, from California State University. She is an active member of Sisters in Crime, Mystery Writers of America, and has served on the Edgar awards committee. She is a frequent lecturer on both the craft of writing and the world of mystery fiction.
A former practicing attorney, she lives near San Francisco with her husband and now writes full time.
© Jonnie Jacobs. Web site by interbridge.